Perimeter team wins 2024 APS Excellence in Physics Education Award
The American Physical Society (APS) has awarded its 2024 Excellence in Physics Education Award to Perimeter Institute's educational outreach team. 
The award recognizes the team "for developing outstanding educational resources that are distributed free to physics teachers in 130 countries, for fostering an international peer-to-peer teacher training network, and for delivering inclusive and inspiring educational programs to students around the world."
Made up of passionate educators, content designers, and scientists, the team has built a world-leading library of resources and hands-on classroom modules for students of all ages. These resources, deployed in classrooms around the globe, are continually updated with the latest science results and pedagogical best practices.  
Perimeter Institute Director Robert Myers calls the work invaluable.
"Science belongs to everyone. Hence sharing the wonder and mystery of the universe and the importance of future scientific breakthroughs has always been a part of Perimeter's mission," Myers says.
"For over two decades now, Perimeter's educational outreach team has empowered thousands of teachers and reached countless students worldwide. Their efforts are creating a future full of inspired young thinkers who are ready to change the world. I'm proud to see the American Physical Society recognize Perimeter's educational outreach team for their outstanding work."
One of Perimeter's most popular professional development programs is an annual summer crash course for physics teachers called EinsteinPlus. More than 450 teachers have participated in EinsteinPlus over the last decade, bringing what they learn to their own students and classrooms.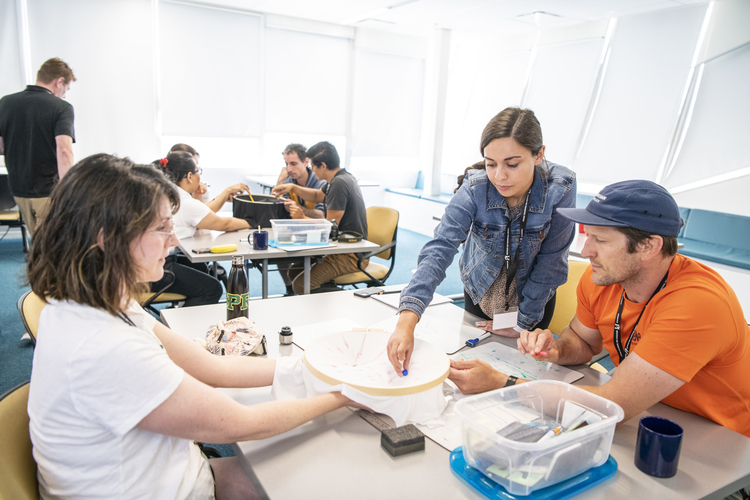 Educational outreach staff also run an annual two-week summer course for high school students. It gives participants a primer in foundational physics and inspires them to think critically about big questions. It also provides the unique opportunity to learn directly from leading physics researchers.
Other programs include the annual Inspiring Future Women in Science conference and a series of facilitator-led classroom workshops called GoPhysics!
Among these programs, the team is most proud of their peer-to-peer teacher network, where alumni of Perimeter's teacher workshops share what they've learned with their colleagues around the world, reaching more teachers and students than otherwise possible.
"It's an honour to have our educational outreach efforts recognized by the APS," says Marie Strickland, Associate Director, Educational Outreach and Scientific Programs at Perimeter.
"Physics is a field that has the power to inspire, and I am so proud of my fellow awardees and team members for the incredible work that they do with students and teachers here in North America and internationally."
The awardees are: Kelly Foyle, Damian Pope, Dave Fish, Greg Dick, Marie Strickland, Tonia Williams, Lauren Hayward, Lorraine Blackwell, and Emma Nichols.
About PI
Perimeter Institute is the world's largest research hub devoted to theoretical physics. The independent Institute was founded in 1999 to foster breakthroughs in the fundamental understanding of our universe, from the smallest particles to the entire cosmos. Research at Perimeter is motivated by the understanding that fundamental science advances human knowledge and catalyzes innovation, and that today's theoretical physics is tomorrow's technology. Located in the Region of Waterloo, the not-for-profit Institute is a unique public-private endeavour, including the Governments of Ontario and Canada, that enables cutting-edge research, trains the next generation of scientific pioneers, and shares the power of physics through award-winning educational outreach and public engagement. 
For more information, contact:
Mike Brown
Manager, Communications & Media
519-569-7600 x5131