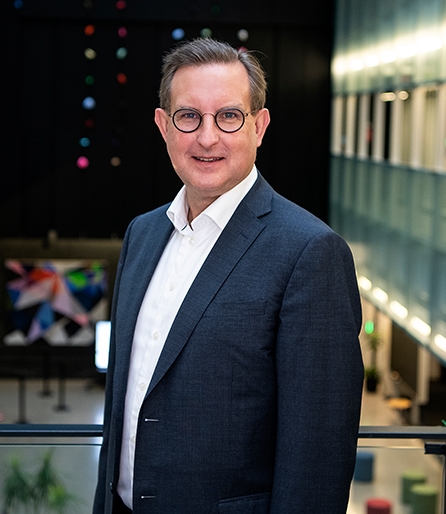 Overview
Paul Smith is a leader who works at the intersections of science and economy, of creative discovery and commercialization.
Smith joined Perimeter Institute in fall 2021 as the Managing Director and Chief Operating Officer, bringing with him a wealth of experience in both scientific research and management. He holds a PhD in chemistry from the University of Bath, as well as an MBA from the Rotman School of Management at the University of Toronto. Smith is also a named inventor on 78 US patents.
As a member of the Xerox Senior Leadership Team and Vice President and Centre Director of Xerox Global Materials Research Centre from 2011 to 2021, he was responsible for the development of devices for IoT, CleanTech and 3D materials.
In partnership with the National Research Council of Canada (NRC), Smith helped create the Canadian Campus for Advanced Materials and Manufacturing, a partnership between government and industry for leading-edge research and development focused on commercialization of devices for the Internet of Everything and CleanTech.
Smith is the Past Chair of the Chemical Institute of Canada. He was the inaugural Chairman of IntelliFLEX, the Canadian Printed Electronics Industry Association, a former Director of the Board of NGen Canada, and a past Chair of the Conference Board of Canada's Council for Innovation and Commercialization. He sat on the Editorial Advisory Board for the Canadian Science Policy Centre and was on the Dean's Advisory Board for the Southern Alberta Institute of Technology (SAIT). From 2014 to 2018, he served on Canada's Natural Sciences and Engineering Research Councils (NSERC) Committee on Research Partnerships.