Perimeter Institute joins Canadian science policy community at CSPC 2023
Perimeter Institute is thrilled to be a partner in the Canadian Science Policy Conference, the largest gathering of Canada's science policy community. From November 13 to 15 in Ottawa, more than 1,000 scientists, industry leaders, and policymakers will tackle pressing questions about science policy and innovation in plenary talks, panel discussions, and informal meetings.
"At Perimeter, we've always viewed our role as not only trying to advance physics research, but also helping to raise the level of research innovation and scientific literacy in Canada through active partnerships with federal and provincial governments, private supporters, and the many incredible scientific organizations across this country," says Paul Smith, Perimeter's Chief Operating Officer and Managing Director.
"CSPC is the most comprehensive science policy and innovation conference in the country, and we're excited to have fruitful discussions about Canada's scientific future during our time in the nation's capital."
To that end, Perimeter has organized a panel discussion about bridging the gap from fundamental research to commercialization.
Building on the conference's theme of "Science and Innovation in a Time of Transformation," a diverse group of panellists with backgrounds in research, business, and public policy will share their experiences and insights. They'll discuss how we can accelerate the path from research through experimentation to commercial ventures – with benefits for both the country's economy and scientific ecosystem.
---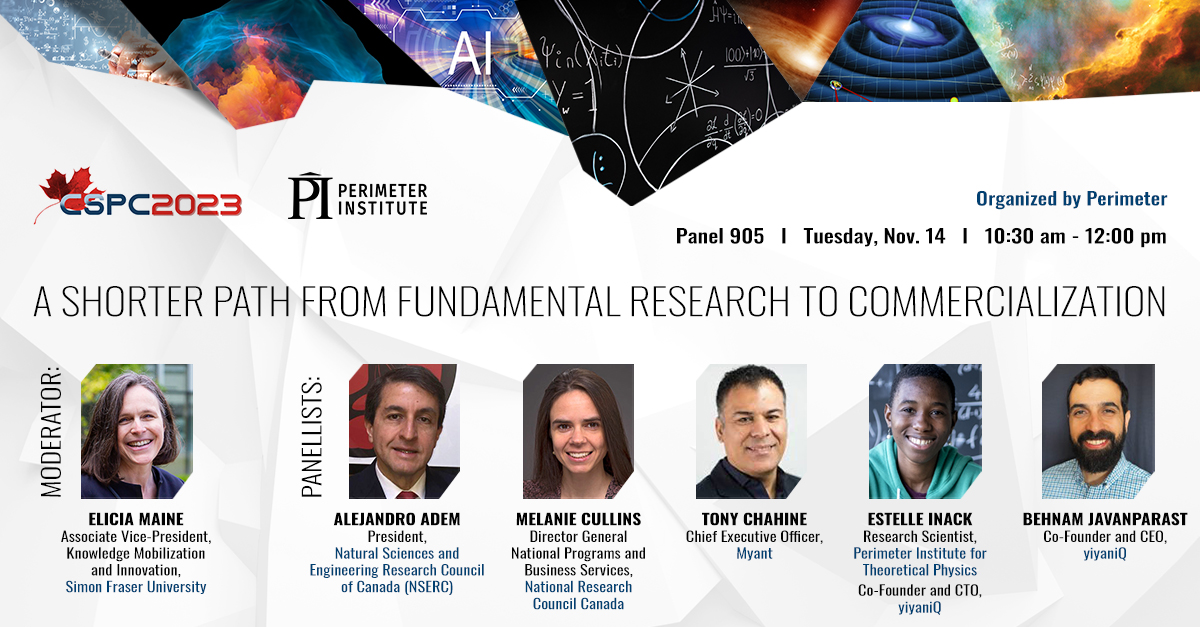 A Shorter Path From Fundamental Research To Commercialization
Tuesday, November 14, 2023, 10:30 am – 12:00 pm, in Governor General I room
Moderated by Dr. Elicia Maine, Associate Vice-President, Knowledge Mobilization and Innovation, Simon Fraser University
Panellists: 
Dr. Alejandro Adem, President, Natural Sciences and Engineering Research Council of Canada (NSERC)
Tony Chahine, Chief Executive Officer, Myant
Melanie Cullins, Director General of National Programs and Business Services, National Research Council Canada (NRC)
Estelle Maeva Inack, Research Scientist, Perimeter Institute, and Co-Founder and CTO, yiyaniQ
Behnam Javanprast, Co-Founder and CEO, yiyaniQ
---
In addition to this panel, Perimeter staff and researchers will be attending events throughout the conference and will be running a booth (#100) in the exhibition space. The Institute also hosted a pre-conference virtual session about fundamentals in science communication and education, which will be available via the CSPC's YouTube channel.
About PI
Perimeter Institute is the world's largest research hub devoted to theoretical physics. The independent Institute was founded in 1999 to foster breakthroughs in the fundamental understanding of our universe, from the smallest particles to the entire cosmos. Research at Perimeter is motivated by the understanding that fundamental science advances human knowledge and catalyzes innovation, and that today's theoretical physics is tomorrow's technology. Located in the Region of Waterloo, the not-for-profit Institute is a unique public-private endeavour, including the Governments of Ontario and Canada, that enables cutting-edge research, trains the next generation of scientific pioneers, and shares the power of physics through award-winning educational outreach and public engagement. 
For more information, contact:
Mike Brown
Manager, Communications & Media
519-569-7600 x5131