Conversations at the Perimeter
Conversations at the Perimeter is the latest evolution in Perimeter Institute's commitment to sharing the power and wonder of science with the world, which has been a central focus of the Institute since its inception.
When the COVID-19 pandemic hit in 2020, the Institute was forced to cancel in-person lectures, requiring significant changes to the long-running Perimeter Public Lecture Series. But it also provided an opportunity to re-imagine the series to better suit a shifting digital landscape.
While the Institute intends to continue hosting the occasional formal public lecture once it is again safe to do so, Conversations at the Perimeter will feature less-formal discussions between top scientists and two co-hosts, quantum physicist and lecturer Lauren Hayward and journalist-turned-science communicator Colin Hunter.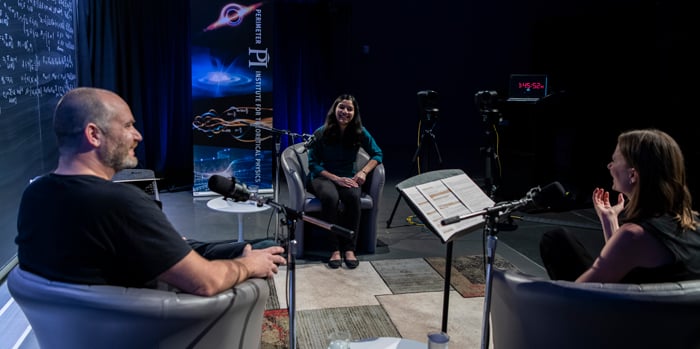 Co-hosts Colin Hunter and Lauren Hayward with podcast guest Meenu Kumari
Together, they'll delve into the research of the world-leading scientists that come to Perimeter, but also examine their motivations, the challenges they encounter, and the drive that keeps them searching for answers. No mathematical or physics knowledge is assumed – just an interest in exploring engaging ideas about the nature of the universe, from quantum to cosmos.
As always, the talks will be viewable on Perimeter's YouTube channel. The new in-conversation format is also perfect for podcasts and each episode will be freely available on all the major podcast platforms.
The first season of Conversations at the Perimeter will consist of 10 episodes, released every Thursday beginning on April 14 (World Quantum Day). Season one guests will include loop quantum gravity founder Carlo Rovelli, theoretical cosmologist (and social media star) Katie Mack, quantum information scientist Raymond Laflamme, and more!
Once it is safe to do so, we hope to record some episodes in front of a live studio audience and those details will be available on this page, when available.
Never miss an episode – subscribe to the podcast, and follow us on social media. This series is also available in video format on Perimeter's YouTube channel.
Listen to Conversations at the Perimeter wherever you get your podcasts.