Career Building Internship Opportunities
Perimeter Institute supports graduate students and postdoctoral researchers to supplement their training with external internship opportunities in industry. Former Perimeter students and researchers have gone on to pursue careers not only in world-leading academic institutions, but also in start-ups and companies focused on developing ground-breaking technologies. In the jobs posted below, students and researchers are hired to apply their theoretical physics skills in industry settings.
Jobs and internships with Perimeter's industry quantum network
The following companies have recently visited or collaborated with Perimeter Institute and frequently offer opportunities for graduate students and postdoctoral researchers with training in theoretical physics:
Perimeter residents: Reach out to [email protected] to be put in contact with representatives from the companies above.
Check out the Industry Speaker Presentations at Perimeter's recent Quantum Industry Networking event to learn more about many of the companies above.
Other Relevant Job Boards
Mitacs Accelerate Umbrella Funding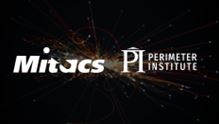 Perimeter graduate students and postdocs can apply for internship funding  through the "Perimeter QuInternships" Mitacs Accelerate Umbrella program.  Perimeter residents can find more information on the application process on PION. For more information, visit the Mitacs Accelerate program website.